Did we all really think I was going to stick with this for a whole year?
Ok, the bad news is, I'm totally off the rails of this project.  The good news is: it's working.  I started at the beginning of the year to expand my horizons: mentally, physically and socially.  And I can feel myself getting more comfortable outside of my comfort zone.
Before I got lost in the giant wasteland known as Mists of Avalon, I got some books read:
Books:
My Sister's Keeper     
You may have read already on Facebook, but I got SUPER mad at this book.  Listen, a long time ago, I went to the movies with my Mom to see an adaptation of one of those Nicolas Sparks books, Nights in Rodanthe.  It was a fairly compelling romance, two characters finding redemption in one another.  Things were headed for a happy ending that I would have been totally satisfied with.  But then….
SPOILER ALERT
…one of them died.  At this point, I forget who it was, that's how big a CLEAR PLOT TRICK the death was.  I think they were riding a horse that fell of a cliff or some equally treacly bullshit like that.  It felt like I was being manipulated into crying at the end and that's how pretty much ALL of those Nicolas Sparks things wind up.  A Walk to Remember. The Last Song.  And don't even get me STARTED on The Notebook. 
Anyway.  My Sister's Keeper Nicholas Sparks'ed me.  There was a good story, with great characters who were facing a genuinely difficult decision. Do they put one daughter's life at risk to prolong the life of the other's, who will likely die anyway?  It ends with a Deus ex Machina CAR ACCIDENT that pretty much makes the choice for them.  I hate that bullshit.  It's always harder to force your characters to make a decision.  But ultimately, it makes for better writing.
2. Room    
This book, though also very sentimental and melodramatic, made me a little happier.  The story is told entirely from the perspective of a five year old named Jack who has lived his entire life in one room with his mother, an abductee.  The plot has some nice, unexpected twists and explores issues like post traumatic stress disorder and how children see the world.
It's also being made into a movie, to be released later this year
3.  Revival  
I am a sucker for many things.  One of them is religious issues.  Another is Stephen King.  So when I found out that one of his newer releases was a story about a pastor that was "not everything he seemed" I had to have it.  So, when Mom finished her library rental of it, I took over the lease, abandoning my scheduled book for that week.
 I get a little upset when people tell me that King has lost his touch since the accident.  I mean…did they NOT read Cell?  He has his hits and misses, like anyone else (though I really can't find one I don't like, and  yes, I'm including Gerald's Game).  Pastor Jacobs abandons his faith pretty early in the novel, following a horrific tragedy.  But he never gives up on his electrical healing methods.  And, reemerging as a faith healer many years later, our protagonist seeks  him out to finally get to the source of Jacobs methods and their potential risks and stumbles upon the "truth" of what happens after we die.
And it's not effing pretty, folks.
Revival isn't my favorite King novel, I don't think it was ever going to be, but I maintain that (despite milquetoast reviews) it's a solid work that examines lowered expectations and what happens when Bad Things Happen to (Good) People.  Stephen King is the anti-Nicholas Sparks for me…because he 1. always surprises me and 2. usually has a better point to make than "look at how much I can make you cry!"
4. The Mists of Avalon  
I'm starting to think I will never finish this effing book.
I started it right after I finished Revival and I just. can't.  finish.  I've been working on finishing my novel (see below).  And I discovered RuPaul's Drag Race.  And it's just hard to slog through.  At 800 pages (in very small font), it's essentially four books in one (split into four parts).
It's not bad.  In fact, it has parts where it's even quite good.  But a little anti-climactic, in my opinion.  It's a re-telling of the Arthurian legend, from the perspective of the women.  (Morgan le Fay, mother to Arthur's bastard child Mordred is the main character.  Juliana Marguiles in the TV miniseries).  It sounded like a winning combination, especially for a cynical feminist like me.  But…I went the first hundred pages wondering how she would treat the sword in the stone and it was glossed over with a one-paragraph throw-away.
I'm a little over halfway done.  I'll let you know how it comes out.
UP NEXT:
Survivor 
Palahniuk is one of my favorites.  Been meaning to get to this one for a while.
Lady Chatterly's Lover  
Because who doesn't want Period Smut?
I've seriously lapsed on my cooking adventures.  Time management has always been an issue.  BUT…
Recipes:
I made a Cake for Jason 
 on his birthday!  From scratch.  Icing and everything.  It was a little bland, admittedly, but I did it and it didn't come from a box.
Because they're all over Pinterest and Buzzfeed, I decided to try Overnight Oats 
They said in the recipe that you could use overripe bananas, like you would for banana bread.  This was wrong.  I can't talk about how badly this went down.  I want to try overnight oats again but…they've lost my trust.
The one thing I am JAMMING at right now, though is Excercise:
1.  
 Yoga at the Library
Sick of YouTube instructionals in my chaotic living room, I got out of the house!  My library offers free Beginner Yoga once a month and I went.  I didn't bring a mat and quickly realized that I'd have to be barefoot.  But, you guys.  I didn't suck!  And it wasn't so bad.  I kept pace with most of the others in class and really enjoyed the little siesta at the end.  So, next I tried…
2.  Yoga at the Gym 
And the Beginner's class proved to truly be Beginner level.  See the girl in the picture?  They wanted me to do that.  It's called the Wild Thing pose.  It didn't happen.  The instructors at my new gym (see below) are clearly not fucking around.  But I've been going when I can and hopefully it'll get easier.
3.  Swimming at home  
So, my apartment complex has a pool.  Which I've been able to swim in for the first time in over a year.  Last summer, due to frozen pipes the winter before, this amenity was sadly unavailable.
The re-opening of the pool brought in ALL the kids.  For about the first month or two, the only way to describe the pool was infested.  As you can see, it's not that big a pool and its a rather large complex.  So, I stuck to the deep end and tried to get what little fitness I could.  I wound up swimming back and forth between the edges of the deep end using only legs or only arms.  It was…not very challenging.  But it relieved anxiety and beat the heat a bit.  Until…
4.  Swimming at gym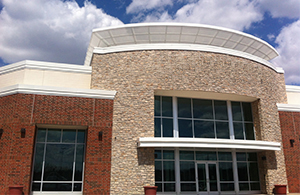 I joined LA Fitness.  They have a pool and it is very rarely crowded and I can go year round and it's Olympic sized.  And so I've been doing laps!  At least three times a week.
The first time I went, I mistakenly went to shower in the Men's locker room (to the horror of my husband!) and left my bathing suit behind.  But I've been upping my game.  I've got breathing techniques and a swimcap and goggles now.  It's intense.
5.  Elliptical – gym v home  
SO, the fitness room in my apartment complex is ultimately what led me to LA Fitness.  When we signed a lease, we did so under the impression that we'd have a pool every summer and a free membership to Better Bodies gym down the street.  When new management took over, all of a sudden the pipes were freezing (killing the pool for an entire year) and they were building a "Fitness Center" connected to a "Business Center" where we'd be able to do Yoga in a Studio, there'd be an extra laundry cash-to-card machine accessible 24 hours a day and wifi.
When the "Fitness Center" opened, our Better Bodies memberships were immediately cancelled.  I tried to go to the new facility but it seemed to still be working out the kinks.  So I gave it a rest.  Tried the YouTube tutorials.  Waited.
I went back a couple of months ago and it was in WORSE shape.  The door to the Business Center is perpetually locked (even though they told us we'd have access 9-5)  There was no machine to put cash on a laundry card.  The wifi was password required and no one is around to give you the password.  The televisions would change channels at random and worst of all…
I couldn't turn on any of the machines.
I went to LA Fitness to take a tour and consider joining, but signed on the dotted line as soon as I saw the facilities.  $35/month for both Jason and I.  Unlimited classes.  Raquetball, basketball courts.  A pool.  A sauna.  So many rowing machines!  I've been going for a month and a half or so and couldn't be happier.
I also signed up for a…
6.  Rowing class  
As part of a Living Social voucher, I started taking rowing classes.  It's powerful, a great workout.  It gave me confidence in group exercise.  I was considering pre-paying for 20 more lessons (aside from the five I had bought on voucher).
But then I joined LA Fitness.  And it didn't feel worth it.
Around Town:
I've finally gotten around to amping up my social activities, too!  Some things I've done:
 "Brews and Books": A monthly book discussion on assorted topics.  Hosted by a high school chum in congruence with his used book store, the two events I've attended so far explored Time Travel and Anthropomorphism.  I'll be back.
2. Shakespeare in the Park     
Hosted by Cincinnati Shakespeare Festival.  Above, you see Romeo and Juliet ala Captain America (It was a costume party!)
3.  Shakespeare in the Cemetery 
The same series, only this time it was Midsummer Nights Dream in Linden Grove Cemetery.  You know I love cemeteries and theater…this was probably one of the favorites of the summer for me.
4.  Writer's Workshop
A gathering of serious amateurs in Rising Sun, Indiana.  So much fun!  Haven't done a roundtable like this since grad school.
5.  The Complete Tom at Harriet Beecher Stow House
Hosted by Cincy Flash, I saw some friends perform the last installment in a traveling Tom Sawyer series at the historic Harriet Beecher Stowe house, which in itself was so enriching.
6.  I saw…Neil de Grasse Tyson at the Taft; Bill Burr a week later (Tyson was better).  I saw the amazing production Sex with Strangers at the Playhouse, but also Luna Gale at the Ensemble (and am headed back this week for Buyer and Cellar).  I took a fire safety class and learned to put out a fire.  I went to the Fair in my hometown and watched the Swing Choir perform (Go Knights!)  I went to a Bengals game with Jason (and got a pretty solid idea for a play about NFL cheerleaders). I had lunch with my sister for her birthday, went house shopping and got the Playhouse crew together for mac n cheese.  I think it's safe to say…I AM GROWING!
I just…didn't have any time to write about it.  Until now.